Monastic Retreat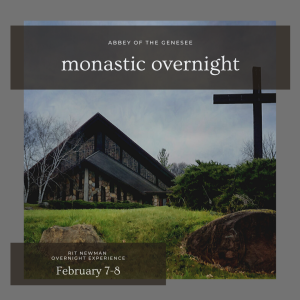 Join us for an overnight at the Abbey of the Genesee to have some quiet time away, while also learning about monastic life!  We will have some meals with the monks, prayer time, and time to tour the area.  The cost is just $25 per person that will all go to the Abbey ministries.  CLICK HERE to sign up!
Kairos Retreat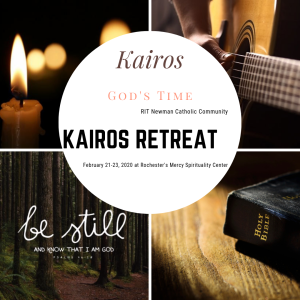 Kairos is spending time with God, and allowing God to let the retreat unfold and impact your heart and mind.  The 2019-2020 Kairos Retreat is January 31st to February 2nd at Rochester's Mercy Spirituality Center.  CLICK HERE TO SIGN UP!
Eve Away @ RIT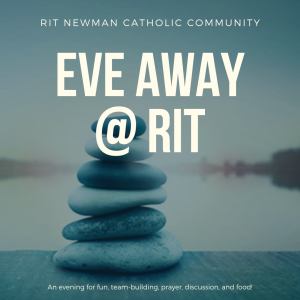 Eve Away @ RIT is a perfect opportunity to get "away" (on campus) for an evening to bond with each other, make new friends, build on current friendships, and focus on how God is working in your life in many ways.  These evening retreats include dinner, ice breakers, team-building, prayer, discussion, music, and a lot of FUN!  They're free...and as always, ALL are welcome!
Our Eve Away @ RIT Retreats for the spring semester are:
Saturday January 25th 6-10pm
Saturday March 28th 6-10pm
Rochester Catholic Deaf Retreat
This is an amazing opportunity for our students to experience a deaf retreat with the larger Rochester community!  This will be held at St. Bernard's, and it's a one day retreat.  The date is unknown but will be posted as soon as it's announced!
Busy Person Retreat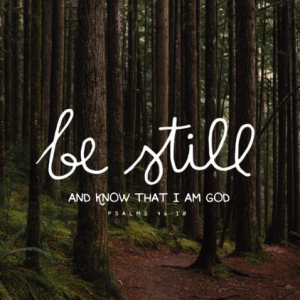 Sometimes it can be tough to get away for a retreat with school and work, so we bring the retreat to YOU!  A busy person retreat is an opportunity for you to spend time with one of Rochester's amazing Sisters of St. Joseph right on RIT Campus to talk, pray, and reflect.  This will occur during the season of Lent, and sign up will begin a few weeks before Ash Wednesday.
Service Learning Retreat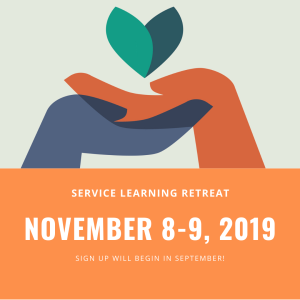 The service learning retreat is a great opportunity to have an overnight retreat experience to pray and reflect, but also to spend a good amount of time serving the community in life-changing ways!  We will stay with the Sisters of St. Joseph Friday evening through Saturday evening to learn hands-on what it means to live the Gospel by serving others!  Our Service Learning retreat already happened for this school year, but we will have another in the Fall semester next year!