DOR Deaf Catholic Retreat
The Diocese of Rochester holds an annual retreat in ASL!  Click the ASL image for the flyer and contact information, or email Kim and she will help get you signed up!  The event is $20 paid to the Diocese of Rochester, but let us know if you need financial assistance.
Intercollegiate Retreat at Mt. Irenaeus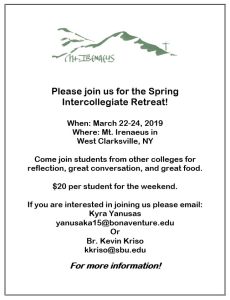 The Spring Semester Intercollegiate Retreat is March 22-24 at Mt. Irenaeus in West Clarksville, NY.  It is $20 for the weekend, but let us know if you need financial assistance.  Email Kim if you'd like to sign up, and your information will be sent to the retreat directors!  This is a wonderful retreat that we are sure will make a great impact on your faith and life.  Try it out!
Eve Away @ RIT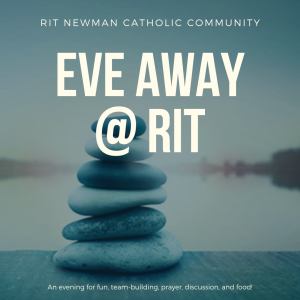 Eve Away @ RIT is a perfect opportunity to get "away" (on campus) for an evening to bond with each other, make new friends, build on current friendships, and focus on how God is working in your life in many ways.  These evening retreats include dinner, ice breakers, team-building, prayer, discussion, music, and a lot of FUN!  They're free...and as always, ALL are welcome!
Our next Eve Away @ RIT Retreat date is:
Saturday March 30th 6pm-10pm - Come for dinner, team-building with Camp Stella Maris Staff, and some group discussion.  Can't wait!
Busy Person Retreat
Sometimes it can be tough to get away for a retreat with school and work, so we bring the retreat to YOU!  A busy person retreat is an opportunity for you to spend time with one of Rochester's amazing Sisters of St. Joseph right on RIT Campus to talk, pray, and/or reflect.  Sign up will begin soon for Spring Semester Busy Person Retreats! 🙂