Holy Week @ RIT Newman
Palm Sunday
10am (ASL Interpreted) - Allen Chapel
5pm - Allen Chapel
Holy Thursday
7pm Mass Allen Chapel
8pm Adoration Jones Chapel
Good Friday
12pm Ecumenical Prayer Service - Allen Chapel
Holy Saturday
8pm Easter Vigil - Allen Chapel
Easter Sunday
10am Easter Mass - Allen Chapel
5pm Easter Mass - Allen Chapel
It's time for Easter Flower dedications!
As we prepare to celebrate Easter, we would like to offer an opportunity to remember or honor someone as part of the Easter celebrations. If you would like to give Easter flowers in memory of—or in honor of—a loved one, please fill out the form either online HERE, or HERE is a PDF version to hand in to Spirituality and Religious Life before Thursday, April 18th.  All those we remember and honor will be listed in the Newman Notes Easter Sunday!
You may donate whatever amount you wish. Your payment options are...
Cash – Attach cash to the paper form, or you may fill out the form online and turn in your cash to the Spirituality and Religious Life office
Check – Please make checks payable to RIT Newman Catholic Community. Please note Easter Flowers on the memo line of your check.  We will have flowers throughout the Easter season.  You may hand deliver or mail your check along with the form (or complete the form online and then send check).
Online – Go to RIT Newman Giving; Under amount, type your chosen amount and then " - East Flowers"      Ex: $50 – Easter Flowers
You may mail, hand deliver, or fill out the form online once you make your online donation.  Please be sure to have them in by April 18th so we can assure the name will make it on the list.
Thank you, and God Bless!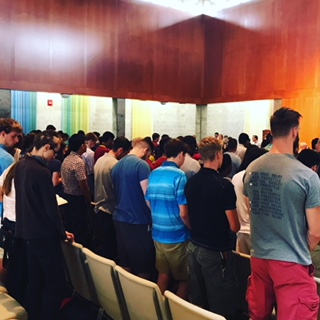 Sunday Mass
10am (ASL interpreted when school is in session) - Allen Chapel
5pm (when there are classes the following day) - Allen Chapel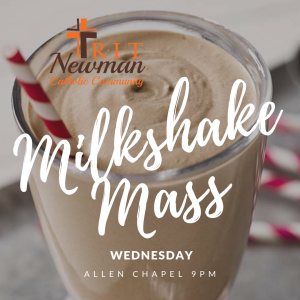 Milkshake Mass
Every other month we do a Milkshake Mass on Wednesday evening at 9pm.  So what's a Milkshake Mass, you ask?  It's exactly how it sounds...we have a very casual daily mass at 9pm followed by MILKSHAKES made by the wonderful Newman Eboard!
Our Milkshake Masses for the Spring Semester are...
Wednesday April 24th at 9pm in Allen Chapel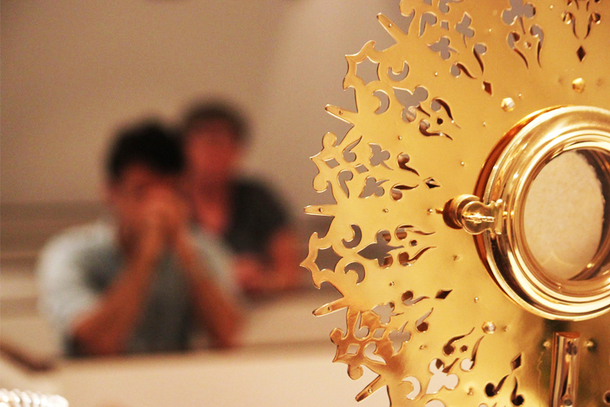 Eucharistic Adoration
Adoration is a beautiful opportunity to relax and spend time with Jesus!  Sometimes we will have Adoration followed by group prayer, sometimes Adoration with some praise and worship, and other times just opportunities for silent prayer and meditation with the Blessed Sacrament.  If you have never participated in a Eucharistic Adoration, that's ok!  Join us and experience the power of spending time with the exposed Blessed Sacrament!
Our upcoming Adoration times are...
Friday March 29th at 3pm in Allen Chapel (followed by Fish Fry Friday in Skalny!)
Wednesday April 3rd at 8pm in Allen Chapel
Friday April 12th at 3pm in Allen Chapel (followed by Fish Fry Friday in Skalny!)